Upcoming Events
Annual Gift Drive and Holiday Party
Join us for our Annual Gift Drive and Holiday Party on December 10th at 1350 W Washington Blvd, Chicago, IL 60607 from 12 pm-3 pm! Families in attendance will take home food, treats, and gift cards, and be entered into a raffle to win a prize for kids.
All family members are welcome, but we will only have sponsored gift donations for homicide victims' siblings and children between the ages of 0-14 who are registered for our event. Register before November 18th by calling (872) 240-4059‬.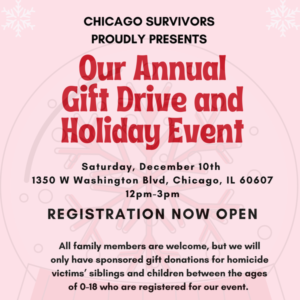 COPING WITH THE HOLIDAYS Event + Workshop
Chicago Survivors invites you to our COPING WITH THE HOLIDAYS Event + Workshop on November, 18th from 5:30-8:00 pm at 3250 W 60th St. Chicago, IL 60629! All ages & family members are welcome.
Join the workshop to discuss grief and coping skills throughout the holiday season & to enjoy dinner and community with a Taco Bar, Ice Cream Social, Activities, Raffle Prizes, Music, and take-home-crafted placemats, ornaments, and picture frames!
To register scan the QR code on our flyer or email healing@chicagosurvivors.org or register at https://docs.google.com/forms/d/e/1FAIpQLSc1JvLppE1st-oZ-P_77blwbSvj3pEP_4YiTpRLlZOa4ce1GQ/viewform?vc=0&c=0&w=1&flr=0.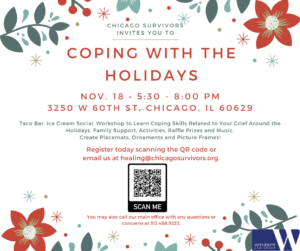 YOUTH ICE SKATING – Sponsored by the Chicago Blackhawks
Calling all Chicago Survivors- and those who have lost someone to violence in the city of Chicago!
The Blackhawks is one of our newest partners and is offering an ice skating day for our youth and caregivers! Would you like to attend? If so, fill out the 2 forms in the link below and we will see you on Monday 9/19th – The bus leaves the City of Praise Church, 3250 W. 60th Street at 3:15 pm sharp! Or you can meet us at the ice arena by 4 pm. But you must register and fill out the waiver.
Follow the links below:
• STEP 1 – Registration Form: https://forms.office.com/Pages/ResponsePage.aspx…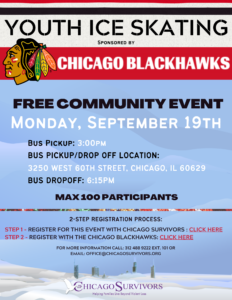 PlayStreets!
PlayStreets is just one of the many initiatives the Department of Public Health leads as part of Healthy Chicago 2 plan to advance health equity across communities in Chicago bridging service gaps and looking at root causes of disparities in health outcomes. In partnerships with community-based organizations & schools across Chicago, PlayStreets encourages community residents to lead active &healthy lifestyles through the creation of safe, fun, and accessible spaces that promote physical wellness, healthy eating and healthy communities, to strengthen community relationships by engaging community leaders and its residents. Claretian Associates has done playstreets for 10 years by closing down high crime areas in the South Chicago and South Shore community area. Claretian Associates provided open spaces top encourage parents and children to come out for healthy play!
Please join them for their kickoff event!
Location: 9108 S. Brandon
Date: August 18, 2022
Time: 10am-3pm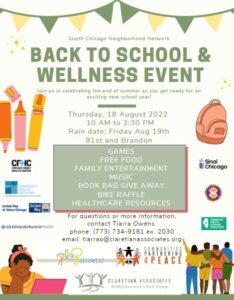 StoryTellers Camp – An In-Person Grief Camp!
We are excited to announce the launch of our free in-person "StoryTellers" Grief Summer Camp beginning 7/19/2022!
We are hopeful to allow 50 youth the opportunity to engage in healing and therapeutic tools of play, movement, and music through narrative practices over the summer. Be sure to register soon by scanning the QR code, clicking the flyer link, or by calling (872) 240 4059.
Tree of Life – Survivor Family Workshop!
We are very excited to announce that we are partnering with DePaul University @depaulu to host our 'Tree of Life – Survivor Family Workshop', a FREE 5-week series for 6th-12th grade youth, again this year beginning in May.
Here's how to register: call or text the Google voice number (872) 240-4059, or scan the QR code on your phone to fill out the google registration form.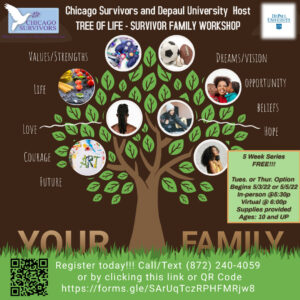 Find the Google Registration Form here: https://forms.gle/SArUqTczRPHFMRjw8
myWalgreens donation program!
We're participating in the myWalgreens donation program! You can donate your myWalgreens cash rewards to CHICAGO SURVIVORS thru 05/31/22. At Walgreens, you'll earn unlimited 1% Walgreens Cash rewards when you shop and you can choose how much to donate. It's that easy. Whether you'd like to contribute $1, $5, or more of your Walgreens Cash rewards you'll be making a big difference. It really adds up!
To learn more about the myWalgreens program visit walgreens.com/mywalgreens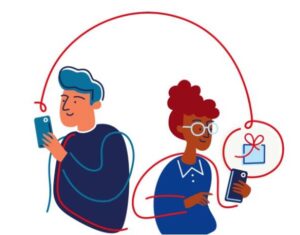 Disclaimer
*Walgreens Cash rewards can be redeemed as a donation to designated charities as shown in your myWalgreensTM account in app or on Walgreens.com. Once Walgreens Cash rewards are redeemed for a donation, the exchange is not reversible and cannot be canceled once submitted. Donation is not tax deductible, and additional terms and conditions may apply. Walgreens reserves the right to change the charities that are eligible to participate at any time without notice.
Join us for an evening of community!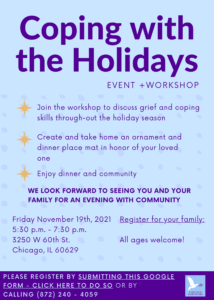 Enjoy dinner and community during our workshop to discuss grief and coping skills throughout the holiday season.
Register here: https://docs.google.com/…/1Jp8jmICUkpRrLzVEk1qQuTA…/edit
We hope to see you & your family Friday, November 19th from 5:30pm – 7:30pm.
.
.
.
Disfrute de la cena y la comunidad durante nuestro taller para hablar sobre el dolor y las habilidades de afrontamiento durante la temporada navideña.
Regístrese aquí: https://docs.google.com/…/1Jp8jmICUkpRrLzVEk1qQuTA…/edit
Esperamos verlos a usted ya su familia el viernes 19 de noviembre de 5:30 pm a 7:30 pm.
Join us at this year's Drive Through Holiday Party!

Help us provide holiday gifts to over 600 youth affected by violence in Chicago by becoming a donor today. For more information on how YOU can help, send us an email or give us a call.
Office: (312) 488-9222 x101
Email: office@chicagosurvivors.org

Register before November 8th for gifts, prizes, food, crafts, and more.
We will only have sponsored gift donations for the victim's children and siblings age 14 and younger who are registered, but all family members are welcome! To register call‪ (872) 240-4059‬. Please enter the parking lot through the Washington BVLD entrance & arrive during your assigned time slot.
We look forward to seeing you there!
.
.
.
¡Únase a nosotros para recoger regalos, comida, tarjetas de regalo, paquetes de manualidades, y artículos de premio!
Solo tendremos donaciones patrocinadas para los hijos y hermanos de la víctima de 14 años o menos que estén registrados, ¡pero todos los miembros de la familia son bienvenidos! FECHA LÍMITE PARA REGISTRAR jóvenes (0-14 años): 8 de Noviembre de 2021. Para registrar llama (872) 240 – 4059 para hablar con Sophia. Entra al estacionamiento por la entrada de Washington BLVD y llegue durante la franja horaria asignada.
Esperamos verlos allí!
Wednesday, September 29th Open Hearts for Broken Hearts – An Event to Benefit Chicago Survivors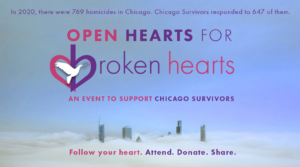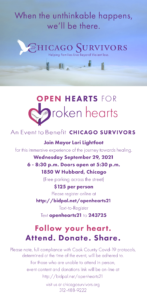 We invite you to this immersive evening on the journey towards healing.
Chicago Survivors provides a wide range of support for families of homicide victims in Chicago. Last year, Chicago Survivors was called to the scene of 647 homicides and gave the families immediate and on-going grief and trauma counseling and other services for six months….all with a staff of only 25 people.  In 2020, homicides were up 55% over 2019, and this year we are on the same pace.
For those who cannot attend, please visit our online event platform for event content, a chance to participate in our raffle, silent auction and donate.
For those with concerns or immunity issues, you can participate online at the URL listed here: bidpal.net/openhearts21 OR Text-to-Register by texting openhearts21 to 243725
With support from, Bulley & Andrews, Tom Vanden Berk, Dr. Traci Kurtzer, IMAN – Inner City Muslim Action Network, Latino Policy Forum.
Please note, our event space is a mixed indoor-outdoor venue. Large doors will be propped open for the duration of our event to increase airflow. On event night, we will adhere to Covid-19 protocols; specifically, vaccination cards will be checked at the door, and masks will be required for our live in-person event.
Join us again this year for Strides for Peace's 2021 Race Against Gun Violence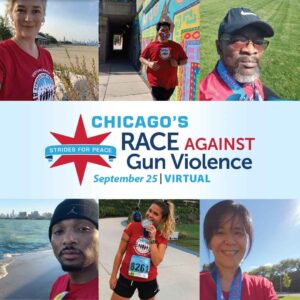 Are you looking for ways to have a positive impact on the violence in Chicago?
Here's how: Step Out and Step Up!
Register to race virtually for Stride for Peace's 2021 Race Against Gun Violence happening September 25th @ 10am.
Join our Chicago Survivors Team when you register by 9/13 @ 11:59PM to get your race swag by race day:
https://www.stridesforpeace.org/race-2021/
Joins us for our Community of Survivors Reengagement this March!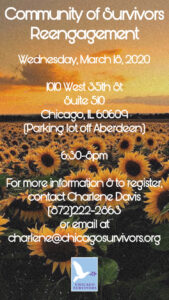 Date: Wednesday, March 18, 2020 (6:30 PM – 8:00 PM)
Location: Community of Survivors Main of Office
1010 West 35th Street, Suite 510, Chicago, IL 60609 (Parking lot off Aberdeen)
For more information, please contact Charlene Davis at 872-222-2863 or email at Charlene@chicagosurvivors.org
Joins us for our Annual Wellness Event!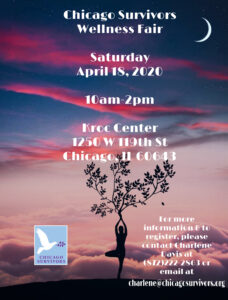 Date: Saturday, April 18, 2020 (10:00 AM – 2:00 PM)
Location: Kroc Center Chicago
1250 W. 119th Street, Chicago, IL 60643 
For more information and to register, please contact Charlene Davis at 872-222-2863 or email at Charlene@chicagosurvivors.org
Join us for Strides for Peace!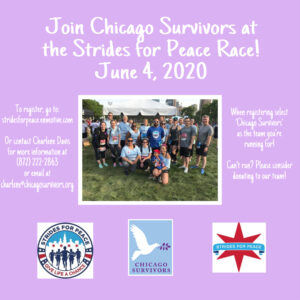 Date: Thursday, June 4th (6:00 PM)
Location: Arvey Field in Grant Park
For more information and to register, please contact Charlene Davis at 872-222-2863 or email at Charlene@chicagosurvivors.org
Crisis Helpline: 877.863.6338
It's free and available 24 hours a day, 7 days a week. You can also get help by calling our office at (312) 488.9222.